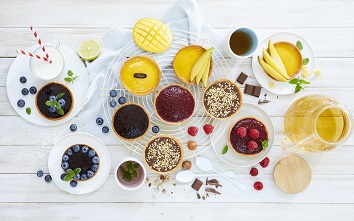 Château Blanc launches a new range of ready- to- serve tartlets 
Unique and surprising recipes, a colourful and elegant appearance; these are the key words for this unique range.
With a crispy pure butter pastry base, topped with smooth fruit cream or a creamy ganache, this varied range consists of 4 irresistible versions, to satisfy all tastes :  
o   The gourmet with chocolate and hazelnut; 
o   The unmissable with raspberries;
o   The exotic with mango;
o   The delicious with blueberries.
Ready-made, these tarts are ideal to take away throughout the day (snacks, teatime, dessert) or to customize and serve as an elegant dessert.
Patisserie has not finished to surprise !