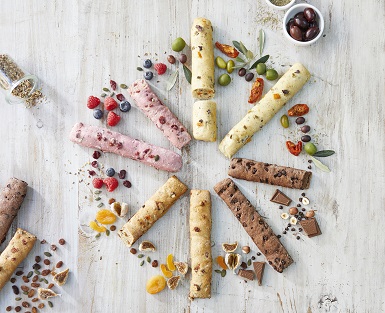 This 100% pre-baked stick, made from bread dough complemented by delicious ingredients, reveals an irresistible soft texture within.
A range of flavours for all tastes, to be eaten at any time of day:
The Bread Stick with Tomatoes, Olives and Provencal herbs. A savoury version, ideal as an accompaniment to a salad, snack or aperitif.

The Chocolate & Hazelnut Bread Stick, the Red Berries and Grains Bread Stick, the Dried Fruit Bread Stick. Three sweet versions to offer for breakfast, snacks or at teatime.
The colours and ingredients give the product an attractive visual appearance and make it an ideal product to draw you in and stimulate impulse buying.
Thanks to its original and fun format, bread sticks are an ideal snack for eating on the go: convenient to take away and easy to eat on the move.